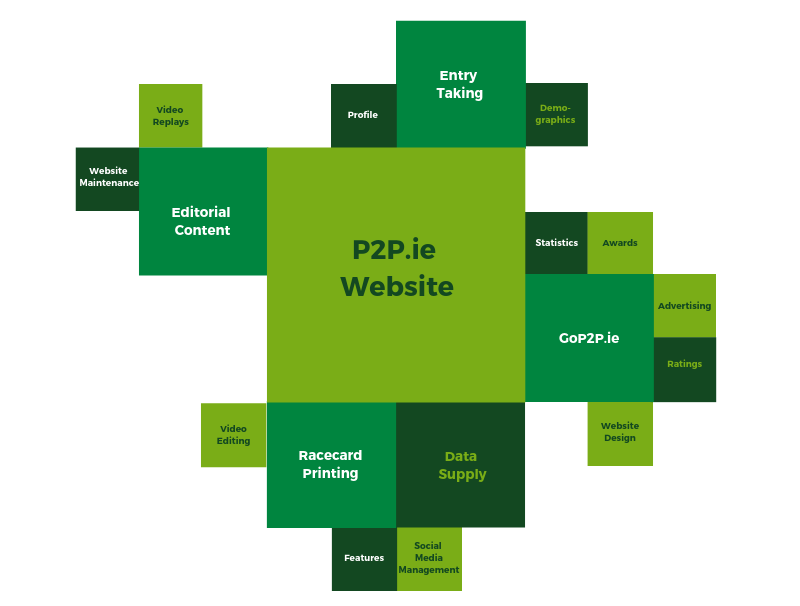 P2P.ie was launched in December 2003 as the online website of Irish Point-to-Point Services, in order to improve the level of information and administrative services that existed for the sport of point-to-point racing in Ireland.

Initially this amounted to displaying the entries for upcoming fixtures online for the first time, before expanding this service to provide the hunt secretaries and entry clerks for each of the individual fixtures with a portal allowing them to enter horses in real time, whilst on the telephone to the handler or owner. This reduced much of the workload of the entry clerks who previously would have had to carry this work out manually.

Over time, entry-taking for the majority of fixtures became centralised to the offices of Irish Point-to-Point Services in Kildare, either online entry via the P2P.ie website or by telephone.

In 2009, we introduced a printing facility, and now print racecards for upwards of 70% of those race meetings held each year. We also provide hunt committees with the additional printing of notices and maps for their weigh-tent as part of this printing package.

Since it's launch, the website has continually grown to provide a rich online source of information for point-to-point enthusiasts. Entries, results, news and photos are all accessible free of charge, with further additional content available in our extremely popular members facility.

For a cost of just €100 (plus Vat) per season, members have access to the only ratings system for Irish point-to-points, video replays, race analysis, detailed statistics, horse tracker and much more…

In October 2017, we launched our sister website GoP2P.ie to provide a comprehensive guide to the sport, featuring information for spectators on what to expect from a day at the races in all corners of the country, a course locator, plus useful information on the sport's history, and a glossary to some of the regular terms that might not be a familiar to a first time racegoer at a point-to-point.

The latest development to the main P2P.ie website, saw a new fully responsive website launched in October 2019, which is operated alongside our many other services which include, supply of data and content to customers, designing and maintaining websites for third-party clients and more.