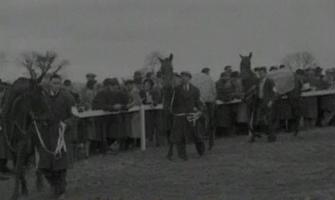 At p2p.ie we value the history of Point to Pointing. We have information on our site relating back to the 1950's and now we can go even further by showing you footage of point to points as far back as 1921.

Below is a treasure trove of footage we recently gained the right to show to you from britishpathe.com. If you like any of the footage once you watch it the option is available to purchase any of the pieces of footage or any other archived material on their website for that matter directly.

Below we have selected footage from Point to Points ranging from 1921-1950 which provides a fascinating insight into the sport almost a century ago.


Click on any of the images below to enjoy this feats of old footage from our sport.

For more information click to www.britishpathe.com


Ward Union 1950 With Audio

Full title reads: "Point-To-Point Draws Dublin Crowd"
Creakenstown, Co. Meath, Nr. Dublin, Eire, Southern Ireland, Republic of Ireland. The Ward Union Hunt stage a point-to-point horse race.

GV Crowded heath. MV Crowd on heath. SV Two women looking at race card. MV Woman at bookie's stand. SV Bookmaker. SV Bookie wearing bowler hat. MV People around bookies. LV Horses being paraded round paddock. MV Horses feet parading round paddock. SV Towards horses in paddock. SV Three horse racing fans. SV People looking through glasses. LV Towards and pan horses racing. CU race fan looking through glasses. LV Towards and pan horses running down straight. SV Winner being led in.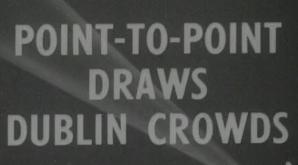 South County Dublin 1937

Full title reads: "Point To Point At Monastery Hill".
Monastery Hill, Dublin, Eire, Southern Ireland, Republic of Ireland.
South County Dublin Harriers Point to Point horse race. Horses are paraded before a large crowd. Various shots of point to point horse racing. Some shots show members of the crowd getting in the way of the horses.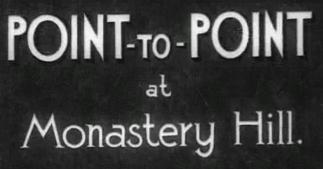 Louth Hunt 1921

Item title reads - Louth Hunt point-to-point races at Dundalk.
Naas Harriers point to point race. Ireland.

Shot of bookmakers shouting the odds, another man spins a wheel and collects money on a table, we see men walking about on the grass before the race. A boy puts his hand in front of the camera then runs off. We see an aristocratic man greeting two glamorous ladies and another man. People watch as horses ride through and jump over a ditch. There is a shot as they race through a field watched by a crowd.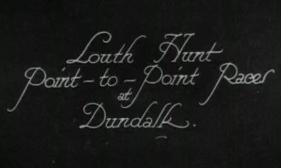 Ward Union 1932

Horse racing in Ireland - mixture of jockeys in silks and huntsmen in colours.
Full title reads: "Ward Union Hunt enjoy an excellent day's steeplechasing at the annual Point-to-Point meeting. (Exclusive).
Ireland (Not clear whether North or South)
Jockeys and horse with owners and trainers in the parade ring. Crowds stand around looking at the horses.

Riders, dressed as if for hunting, take a ditch. L/S riders approach and take a jump. People are gathered to watch the race. More racing scenes, these jockeys are wearing silks and not hunting colours. The cameraman gets in quite close to some of the jumps to film the approaching horses. The winning horse is led away by its connections. The rider is one of those wearing silks. Pan with the horse as it is led away.

Sound Track Missing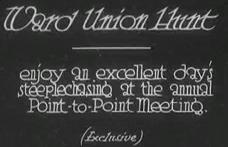 Bray 1926
Title: "BRAY HARRIERS hold their annual Point-to-Point Meeting at Calary".
Various M/Ss of a horse and rider jumping over a dry stone wall. M/S of several horses and riders jumping over a dry stone wall, one horse stumbles and falls, throwing off its rider. M/S of horses and riders jumping over an earthy hillock, a small group of spectators watch from the sides of the hillock. M/S of two horses racing along the final stretch, there are no barriers so the cheering spectators and dangerously close to the action. M/S, looking over the heads of a crowd, of a jockey on horse walking slowly past.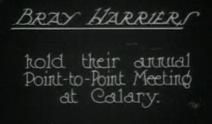 Ward Union 1930

Item title reads - Ward Union Hunt hold a successful Point-to-Point Meeting at Mullinan. Ireland.

M/S as the camera pans across men and women stood in a field, one woman has her arm in plaster. M/S of two men with two little boys, they walk across the field and others mill about. L/S as the huntsmen ride through the fields and over streams, various shots as they ride along watched by the crowds.

M/S of two racing side by side and others jumping over a small hedge. Various shots as others ride along, one lady and her horse come to a stop. M/S of the lady holding her saddle and looking surly, presumably she is the winner.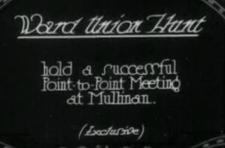 North Kildare 1930s

Title: "NORTH KILDARE HARRIERS hold their Annual Point-to-Point Races".
M/S of several racehorses jumping over a fence. Panning shot of a crowd of spectators standing in a field, several carry umbrella, everyone is wrapped up from the cold. M/S of two horses racing past the crowd to the finishing line, the spectators cheer them on, one man runs alongside one of the horses. M/S of the crowd gathering around horses and jockeys that have finished the race.
Intertitle: "Mrs. Wall wins the Bracelet Stakes".

M/S of Mrs. W. and several men standing around a racehorse, Mrs. W. pats its nose. M/S of Mrs. W. climbing onto her racehorse, she rides off through the crowd. M/S of a man lifting a little boy so he can shake Mrs. W's hand, the horse bucks as the man places the boy on the ground. M/S of the spectators walking over a field away from a marquee.

More shots of two racehorses coming to finishing line. C/U of a woman - probably, Mrs. W. - holding the reigns of her race horse.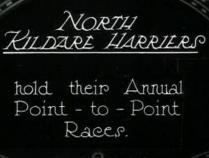 Mullingar Races 1921

Item title reads - Steeplechases at Mullingar - Frank Wooton rides three winners. Ireland.
L/S of crowds watching as the horses race by up the track, they move away when the horses have past and up to another point. Various shots of the race, M/S as they jump over fences and L/S as they race up the track. One horse is led up past the camera after the race.