Name: Finn Buckley

Age: 21

From: Devon (living in Meath)

Finn Buckley, younger brother to national hunt jockeys Tom and Kieren Buckley registered his first Irish point-to-point winner aboard Fameafterglory at Tatteralls on Sunday for his boss Gavin Cromwell.

How did you get involved with horses?

My parents, my family in general have always been involved with horses. They worked with horses in England, they both worked for Martin Pipe back in the day.

My older brothers who are both jockeys Kieren and Tom would have ridden ponies when they were younger, so there was always ponies about and that is how we all got started. I never did pony racing or anything like that.

Where was your first experience with racehorses?

It would have been in Nigel Hawke's in England, he would have been near to us in Devon.

When did you decide to make the move to Ireland?

I came over here in April on the advice of my brother Kieren who is based in Gavin Cromwell's. He came over about 18 months ago and he said I should do the same.

My Dad, Ned Buckley also returned to Ireland in April. He is originally from Wexford and he came back to run the Lee Valley Training Centre in Ratoath.

How are you finding it over here?

I absolutely love it, I will never go back!

Did you do much point-to-pointing in England before you came over?

I had ten rides in UK points and one winner before I came over here and had the few spins for Gavin Cromwell.

Do you find much of a difference riding over here?

Definitely! I'd say the best way of summing it up would be that it's a lot more tactical.

Do you ride out for anyone else?

I ride out for John McConnell and I also ride out a bit for Willie Murphy who is based in Carlow.

When did you find out that you were riding Fameaftertheglory?

When I saw him entered in the novice riders open, I was just hoping I'd get on him. I was delighted when Gavin asked me to ride him.

I would know him well enough from riding him at home and schooling him.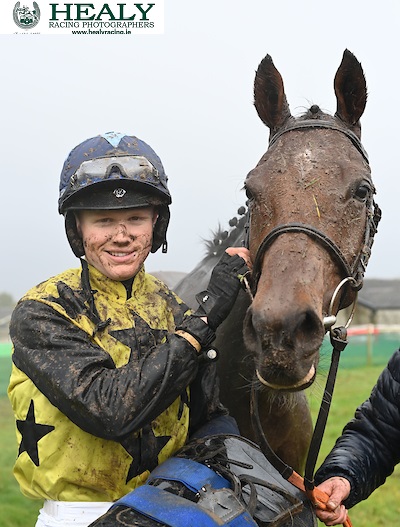 Did you fancy him to run a big race?

We kind of fancied him, but you couldn't have been totally confident as he's had his problems in the past but he really took to Sundays race. He jumped and travelled well and really enjoyed the change of scenery.

Do you think he'll stay pointing for the time being?

I'm not sure what the plan for him is, I would love if he stayed pointing but I'd imagine the lads will be keen to get him back to the track.

Were any of your family there for the win on Sunday?

My dad and brother were there which was great and a couple of lads from the yard were there too so it was a great day.

What are your ambitions for this season?

Just work hard, try get as many rides as I can and hopefully put a few winners on the board.
Have you plans to turn conditional?
Not at the moment, I would like to get as much as experience as I can and there are great opportunities for amateur riders here.

Any horses to follow for the season?

Antrim Coast, is a nice horse he was second at Cheltenham over the weekend, he won a maiden hurdle at Punchestown a couple of weeks ago, he is a nice young horse to keep an eye on.

Is there any up and coming riders in Gavin's that we should be keeping an eye on?

Paddy O'Brien is a 7lb claimer in the yard and Joey Dunne, he is in Gavin's as well and would be first amateur and I slot in behind him then.

Who is your biggest influence in racing?

My two brothers I suppose Kieren and Tom. I have always looked up to them and they are always helping me out and giving me advice.

My Dad also played a big role, he worked for Martin Pipe and Jim Bolger previously two of the greatest trainers so he has passed down a lot of what he has learned over the years.

Keith Donoghue is also another one who has been a big help to me since joining Gavin's. He was giving me advice about the horse on Sunday and he is always looking out for us.

Alex Harvey who was also there on Sunday was telling me about the track, it's great to get that type of advice.

Have you any interests outside of racing?

I play a lot of golf but other than that it's horses and eating!
%uD835%uDC0D%uD835%uDC1E%uD835%uDC31%uD835%uDC2D %uD835%uDC06%uD835%uDC1E%uD835%uDC27 | %uD835%uDC05%uD835%uDC22%uD835%uDC27%uD835%uDC27 %uD835%uDC01%uD835%uDC2E%uD835%uDC1C%uD835%uDC24%uD835%uDC25%uD835%uDC1E%uD835%uDC32

Finn Buckley, younger brother to national hunt jockeys Kieren and Tom Buckley registered his first Irish point-to-point winner aboard Fameafterglory at Tattersalls on Sunday.

To find out more about Finn %uD83D%uDC49https://t.co/vc1Jw34568 pic.twitter.com/jLkvw1S7DK

— p2p.ie (@irishp2p) November 1, 2023